Pharmaceuticals

Exam Supplies

Vision Assessment

Contact Lens

Optical Supplies

Laboratory Supplies

Children's Supplies

For the Office

Custom Imprinting

Product Index

Equipment Manuals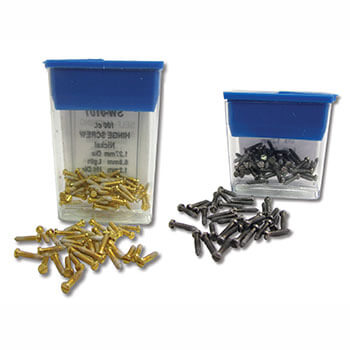 Self-Aligning: Hinge Finder with Sherlock®
Amcon's new Self-Aligning Hinge Finder with Sher-Lock® are perfect for repairs on spring hinge frames. The pointed end makes insertion quick and easy, and the hollow barrel can be trimmed anywhere along the length of the screw. Sold 100 per pack.




Product weight: 0.04 lbs. / pack of 100
Please
Log in or Register with Amcon On-Line
to see pricing. Or
contact Amcon.
| | |
| --- | --- |
| | Stock Number |
| | SW-2400 - 1.2mm D, 6.4mm L, 2.0mm HD, Silver |
| | SW-2400-B -1.2mm D, 6.4mm L, 2.0mm HD, Black |
| | SW-2400-G - 1.2mm D, 6.4mm L, 2.0mm HD, Gold |
| | SW-2401 - 1.4mm D, 6.4mm L, 2.0mm, Silver |
| | SW-2401-B - 1.4mm D, 6.4mm L, 2.0mm, Black |
| | SW-2401-G - 1.4mm D, 6.4mm L, 2.0mm, Gold |