Pharmaceuticals

Exam Supplies

Vision Assessment

Contact Lens

Optical Supplies

Laboratory Supplies

Children's Supplies

For the Office

Custom Imprinting

Product Index

Equipment Manuals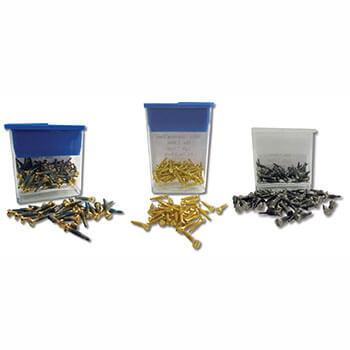 EZT Premium Screws
The Easy Tap EZT® line of screws are self-aligning, self-tapping and self-locking screws. A new and unique product designed to better perform and save you time and frustration. The EZT® shorter length requires less time to firmly set. Its 303 Stainless Steel construction with its universal head adds to the ease and convenience when used. Available in five thread sizes, color coded for easy identification.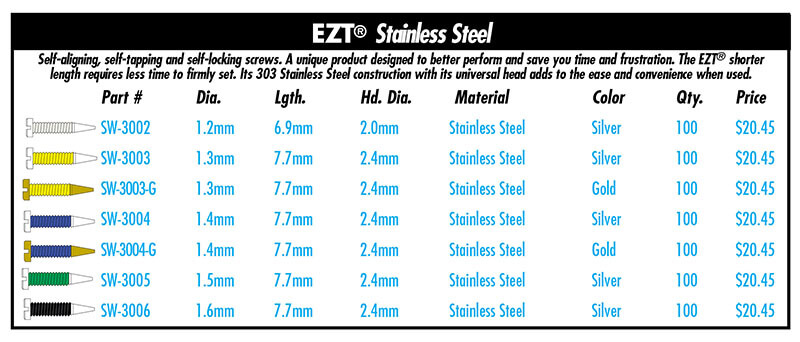 Product weight: 0.04 lbs. / pack of 100
Please
Log in or Register with Amcon On-Line
to see pricing. Or
contact Amcon.
| | |
| --- | --- |
| | Stock Number |
| | SW-3002 - 1.2mm D, 6.9mm L, 2.0mm HD, Silver |
| | SW-3003 - 1.3mm D, 7.7mm L, 2.4mm HD, Silver |
| | SW-3003-G - 1.3mm D, 7.7mm L, 2.4mm HD, Gold |
| | SW-3004 - 1.4mm D, 7.7mm L, 2.4mm HD, Silver |
| | SW-3004-G - 1.4mm D, 7.7mm L, 2.4mm HD, Gold |
| | SW-3005 - 1.5mm D, 7.7mm L, 2.4mm HD, Silver |
| | SW-3006 - 1.6mm D, 7.7mm L, 2.4mm HD, Silver |