Pharmaceuticals

Exam Supplies

Vision Assessment

Contact Lens

Optical Supplies

Laboratory Supplies

Children's Supplies

For the Office

Custom Imprinting

Product Index

Equipment Manuals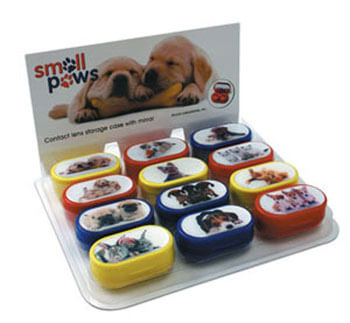 Small Paws Series Design Contact Lens Cases - Prepacked Display
They're cute, cuddly and a retailer's favorite pet. Small Paws feature adorable puppy and kitten photos sure to appeal to all animal lovers. The Small Paws Designer Contact Lens Cases are the perfect storage case for all types of contact lenses. Each designer case contains a screw top contact lens case on the interior and a mirror in the lid to aid in lens removal and insertion.
Please note: there is a protective plastic film over the mirror in each optipak. Remove after purchasing.
Product weight: 1.356 lbs. / ea
PLEASE NOTE: Clearance items are non-returnable unless defective.