Pharmaceuticals

Exam Supplies

Vision Assessment

Contact Lens

Optical Supplies

Laboratory Supplies

Children's Supplies

For the Office

Custom Imprinting

Product Index

Equipment Manuals
This product is not currently offered at Amcon Labs.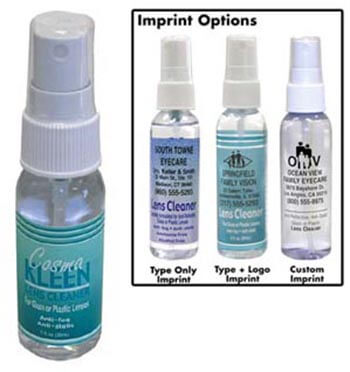 Cosma Kleen® 1oz spray bottle - CONTEMPO BOTTLE - Personalized
A crisp, clean new look for our classic glass and plastic cleaner! Cosma Kleen® has been America's favorite lens cleaner for more than half a century. The new bottle design gives Cosma Kleen® a fresh new look for the 21st century.
Safe for glass or plastic lenses.
Anti-fog
Anti-static
Please allow 3 - 4 weeks on imprint orders. You may add a logo for a one-time fee of $35.00. If you choose the custom label, whether you use a logo or not, there is a one-time custom-art charge of $35.00.
Product weight: 11.74 lbs. / box of 100
Safety Data Sheets (MSD) Avaliable
English
Click Here to view all avaliable Amcon Safety Data Sheets
Imprint Information
PLEASE READ the logo submission guidelines if you plan to imprint your logo on this product. To view all free logos currently offered.
PLEASE NOTE: You will be asked to enter what you would like imprinted on this item after you check out. Please allow 28 business days on imprint orders after approval.